| | |
| --- | --- |
| Posted on September 20, 2018 at 9:00 AM | |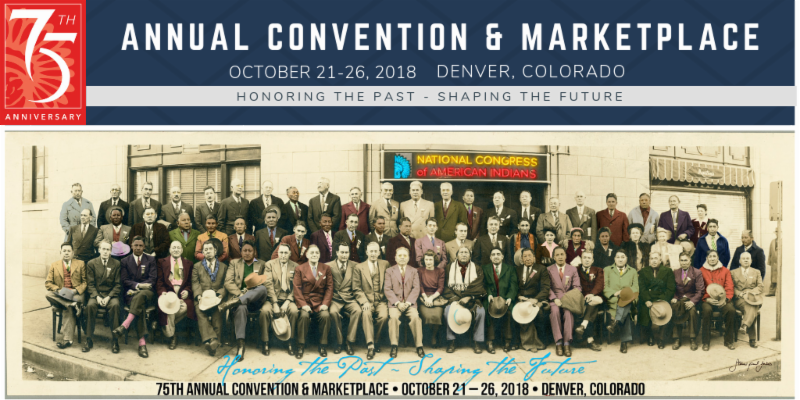 Date: Oct 21, 2018 - Oct 26, 2018
Where: Denver, CO
About the Event:
We are excited to celebrate our 75th Anniversary in Denver, Colorado where our first convening was held in 1944! We hope you can join us. We look forward to welcoming you!
Registration Now Open! https://netforum.avectra.com/eweb/Shopping/Shopping.aspx?Site=NCAI&WebCode=Shopping&cart=0" target="_blank">Register now online, or click here to download and print the registration form and submit with payment.
75th Anniversary Book "Honoring The Past"
https://docs.google.com/forms/d/e/1FAIpQLSfhW6cPcmbQilnGclEKF1PwbNO_7oNy_8g4XLCYaNVFwnCF2g/viewform" target="_blank">Fill out our NCAI Alumni Contact Form to help us connect with you!
https://docs.google.com/forms/d/e/1FAIpQLSekCUUyYJFbEycEqjo4i-XWpJpD0kNsgu1t7yCY0lcqEMJprg/viewform" target="_blank">Call for photos, stories, and quotes for the 75th Anniversary!
We have a number of exciting activities planned including our 75th Anniversary book Honoring the Past! Submit your photos, stories, and quotes to NCAI to be included in our materials for the year. Get started by filling out the form here.
Questions? Email ncai@ncai.org for more information.
Marketplace
The Marketplace offers a wonderful opportunity to shop with top Indian Arts & Crafts vendors, talk with representatives from Federal programs and Tribal Enterprises, and receive career, education, and health information from the wide variety of vendors. The Marketplace is open to the general public.
www.ncai.org/events/2018/10/21/75th-annual-convention-marketplace
"Piqua Shawnee"
Piqua Shawnee Tribe