| | |
| --- | --- |
| Posted on October 27, 2017 at 8:25 AM | |
Pontiac's Rebellion
Pontiac's Rebellion Summary and Definition: Pontiac's Rebellion, aka the Pontiac War (1763 - 1766), broke out in the Ohio River Valley. Chief Pontiac (1720-1769) was a powerful and respected head chief of the Ottawa, Chippewa and Potawatomi. Chief Pontiac led a rebellion of a number of tribes against the British and the colonists. Pontiac's Rebellion followed the defeat of the French in the French Indian War (1754-1763) and the conclusion of the series of conflicts referred to as the French and Indian Wars. Many of the Native American Indians, primarily in the Great Lakes region, had close trading relationships with France and were appalled to find that the lands were now under the control of the British. Pontiac's Rebellion was an attempt by an alliance of some Native American Indian tribes to prevent Great Britain from occupying the land previously claimed by France. Pontiac's War failed but the rebellion hastened the implementation of the Royal Proclamation of 1763 establishing a massive boundary called the Proclamation Line. The Proclamation of 1763 was designed to calm the fears of American Native Indians by halting the westward expansion by colonists whilst expanding the lucrative fur trade.
Names of Native American tribes in Pontiac's Rebellion
The names of the tribes who supported Chief Pontiac's rebellion were:
Tribes of the Great Lakes region: Ottawa, Chippewa (Ojibwa), Potawatomi, and Huron
Tribes of Ohio region: Delaware (Lenape), Shawnee and Mingo
Tribes located in eastern Illinois region: Miami, Kickapoo, Mascoten and Piankashaw
The tribes of the Iroquois Confederacy were British allies and did not want to become involved with Pontiac's War. However, many of the Seneca tribe decided to join the rebellion.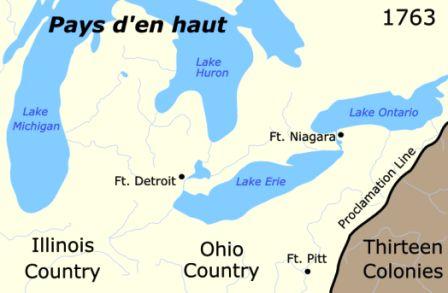 Pontiac's Rebellion - Pays d'en haut
The Native Indian tribes involved in Pontiac's Rebellion lived within an area controlled by New France before their defeat in the French Indian War known as the 'Pays d'en haut' meaning the upper country.
Read More:
https/www.warpaths2peacepipes.com/the-indian-wars/pontiacs-rebellion.htm
Visit the Official Website of the Piqua Shawnee