How did the Town of Piqua get its name?
Rosalie Yoakam, Contributing Writer
Wednesday, June 25, 2014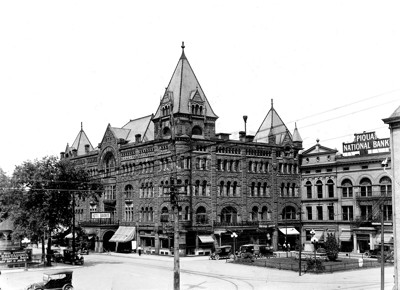 Fort Piqua

A town grew out of the wilderness of Miami County after one pioneer built a log house near the Great Miami River in 1798.
Job Gard, a former soldier under "Mad Anthony Wayne," was the pioneer. The land was about eight miles north of Troy on the west bank of the Great Miami River where there was a bend in the river.
The earth in this place had been roughly worked by the Shawnee Indians for several years and they raised corn there.
Gard built a log cabin, improved the fields and put up rail fences. Soon Gard sold his holdings to John Manning and ventured off into the backwoods again.
Other settlers moved into the area and built log cabins near each other for protection from the Indians. They also erected a block house and stockade for defense in case of attack. The building was made of sturdy logs and had no windows. The picket stockade had a huge gate that was secured with a padlock the size of a dinner plate. These structures were located near the river on the south side of present day East Water Street.
In 1807 the village, consisting of seven houses, was surveyed by Armstrong Brandon and named Washington. A short distance north was a Shawnee town called Piqua.
Piqua means "ashes" in the Shawnee language. An old legend explains the naming of the Shawnee village. Many years before, the Shawnee had captured a member of a tribe they were warring against and burned him at the stake. Then, to their amazement a human figure began to slowly grow from the ashes of their victim. The natives exclaimed, "Otatha-he-wagh-piqua!" or "He comes out of the ashes."
In 1811 John Johnston moved his family to land he had purchased close to Washington, Ohio. There he built a brick house near a large spring on a site named Johnston's Prairie. A year later the War of 1812 occurred and a new Indian agency was established near Washington, Johnston was appointed the agent.
About six thousand neutral Native Americans were moved to his area and Johnston worked to keep them friendly to the United States. His role was so crucial that several British assassination plans to eliminate him were hatched but thwarted by his Native American friends.
The increase in business, due to Johnston's work during The War of 1812, helped the growth of Washington.
By 1816 the Shawnee village of Piqua had been abandoned, and the citizens of Washington asked the state legislature to let them change the name of their town to Piqua. Their request was granted.
Piqua was incorporated by the Ohio General Assembly in 1823. Thus, a town grew from the beginning work of one man, Gard, who perhaps never knew the outcome of his labor.
Piqua Shawnee
Visit the Official Website Piquashawnee.com
https://en.wikipedia.org/wiki/Piqua,_Ohio" target="_blank">https/en.wikipedia.org/wiki/Piqua,_Ohio